Alliant Powder – 20/28 1lb.
$28.99
Almost a century of manufacturing experience and the most stringent quality control standards in the business are behind every container of Alliant 20/28 Powder in stock for sale (smokeless). In a ballistics lab, the chemical composition, grain shape and size, and overall density are all regularly monitored and tested to assure consistency in the final product.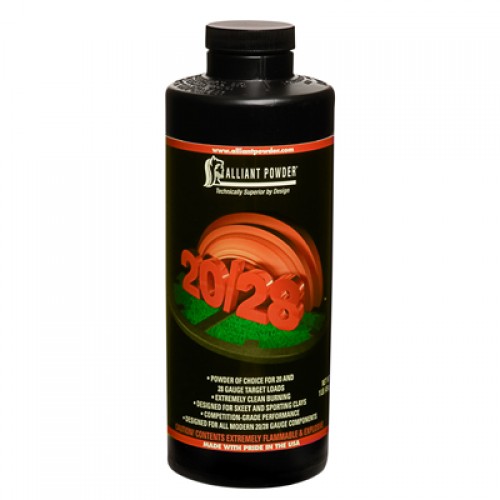 The 20/28 smokeless powder burns exceedingly cleanly and consistently, which is important in skeet and sporting clay shooting, where consistency is essential. Specifically designed for target and skeet loads in the 20 and 28 gauge ranges. All modern 20 and 28 gauge rifles are compatible with this cartridge.
Warnings from the Manufacturer:
Do not exceed the loads displayed in the reloaders guide.
Never mix any two powders regardless of type, brand, or source.
Never substitute any smokeless powder for Black Powder or any Black Powder substitute.
WARNING: This product can expose you to harmful chemicals whuch are known to the state of California to cause cancer and birth defects or other reproductive har. for more information go to -www.P65Warnings.ca.gov