glock 34 for sale GEN 3 Features:
The glock 34 for sale online extended barrel was created in order to achieve the highest level of accuracy while engaging targets. When used in close quarters situations where space is limited and precision is crucial, this semi-automatic double-action pistol fires 9mm caliber rounds from a 17-round magazine, which is quite useful.
The Glock 34 offers more power and ammunition than most traditional compact weapons, providing its handler with the competitive advantage he requires to succeed. It has a matte black finish and a polymer frame for further durability. The barrel measures 5.32″ in length, and the sights are adjustable.
The overall weight of the magazine varies based on the type of magazine used, but it is 22.92 oz. The Glock 34 comes with two magazines, each of which holds 17 rounds of ammunition. The Glock 34 is equipped with the company's well-known safe action trigger system feature. It is without a doubt the most important backup support firearm for the military in the United States.
The Gen 3 Glock 34 is the perfect firearm for competition. With 17 rounds of 9mm and a 5.3 inch barrel you are at a huge advantage over other shooters.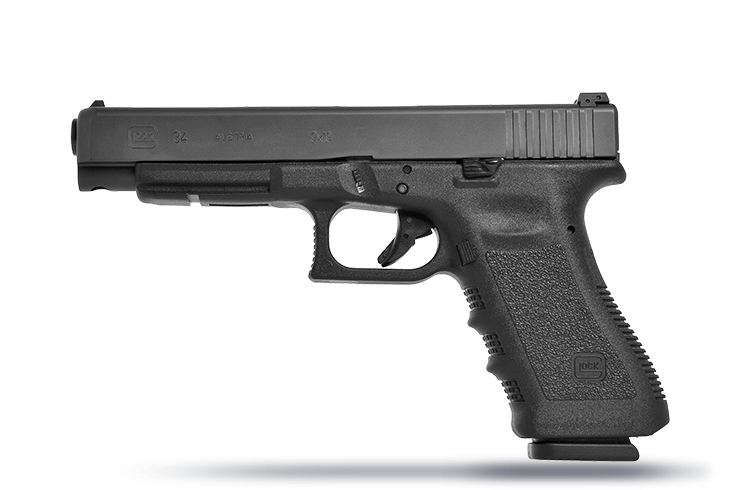 Glock 34 GEN 3 Specifications:
Glock 34
 Longslide Size Pistol
 9MM
5.32″ Barrel
 Polymer Frame
 Matte Finish
 Adjustable Sights
 17Rd, Prac/Tac, 2 Magazines
| | |
| --- | --- |
| Barrel Length | 5.32 |
| Caliber | 9mm |
| Capacity | 17 |
| Condition | New in Box |
| Finish Per Color | Black |
| Frame Per Material | Polymer |
| Hand | Right Hand |
| Manufacturer Part Number | PI3430103 |
| Model | 34 Gen3 Competition |
| Type | Semi Auto Handguns |
| UPC | 764503301346 |