win 40 S&W
Win 40 S&W round, is ready to assist you in winning competitions and impressing your friends, thanks to the fact that every one of its components has been optimized to sharpen the accuracy of your pistol to razor's edge. With Winchester's top-of-the-line range bullet, which has an essentially perfectly uniform lead core, precision drawn full metal jacket, and profile that ensures flawless feeding in a semi-automatic, it is an excellent choice for hunting.
A clean hole will be punched through any paper target by this bullet's flat nose meplat, making scoring your shots a very simple process.
Win 40 S&W views every component in this round as an opportunity to improve the accuracy of its firearms and ammunition. This is accomplished through the expert drawing of its brass casing, which has been designed to have a uniform internal capacity, and the use of a propellant charge that produces consistent chamber pressure and muzzle velocity. This round also includes a match-grade primer, which ensures that every shot performs exactly the same as the previous and subsequent shots.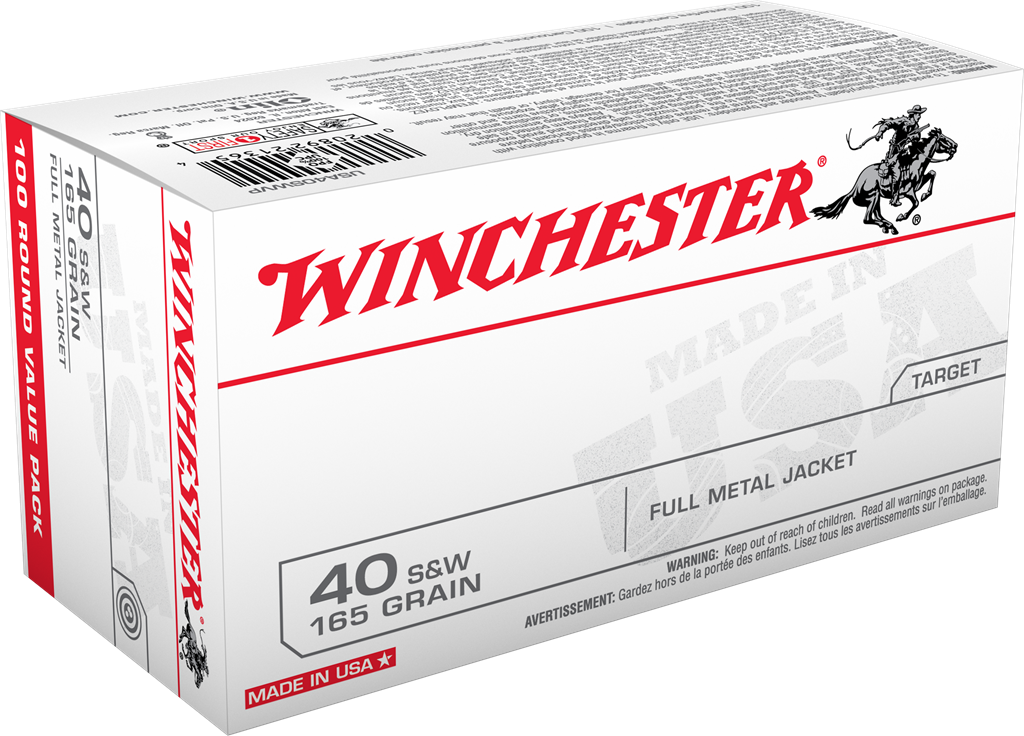 For more than a century, Winchester has set the global standard for superior handgun ammunition performance and innovation in the firearms industry. The name "Winchester" is synonymous with quality and performance for millions of hunters and shooters around the world, including the most comprehensive, versatile, and high-performance line of handgun ammunition available anywhere in the world.
| | |
| --- | --- |
| Cartridge | |
| Grain Weight | |
| Quantity | |
Configuration
Muzzle Velocity
Muzzle Energy
Bullet Style
Lead Free
Case Type
Primer
Corrosive
Reloadable
Country of Origin